Frequently Asked Questions
How do I know if you have daycare availbility?
The daycare availability calendar will show current availability for daycare.  At this time the availability calendar does not show availability for boarding.
Please keep in mind that we try to keep our availability up to date as much as possible.  Unfortunately, at this time our scheduling software does not account for other waitlisted or pending reservations made for the same day.  This can sometimes result in a reservation being wait listed when the availability calendar shows availability.  We apologize for this.
Availability Calendar Instructions:
1) Go to the new reservation screen.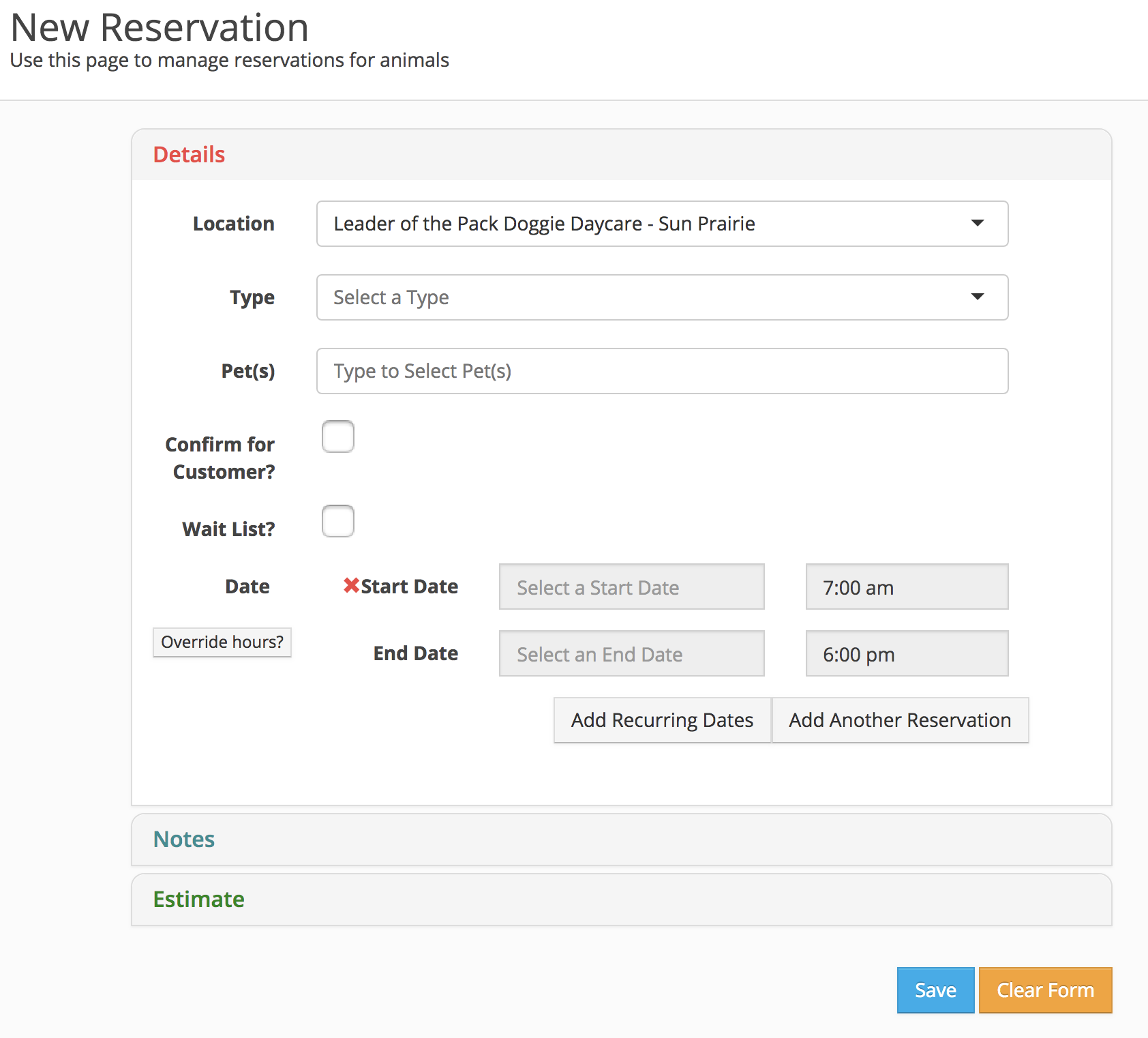 2) Select a reservation type of "Daycare"

3) Once the reservation type has been set, the "Availability Calendar" button should display.  Click this button to display the calendar.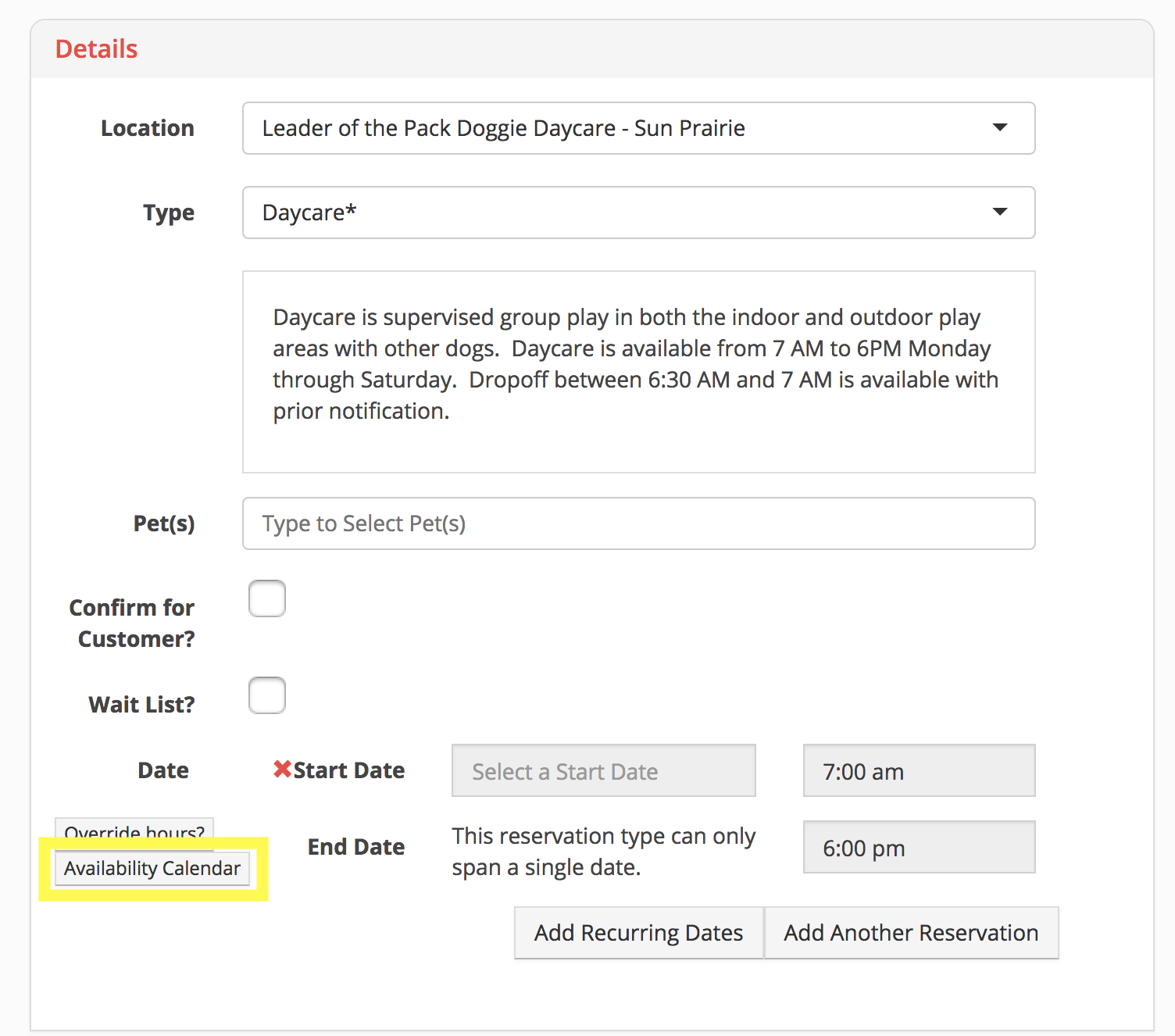 What is required for my dog to come to Leader of the Pack?
We take simple but necessary precautions.
For the health and safety of our guests, dogs entering Leader of the Pack for boarding or daycare must have proof of the following vaccinations:
DHPP (Distemper)
Lepto (Recommended)
Rabies
Bordetella/Parainfluenza 3 (Recommended every 6 months – required annually)
H3N2 Canine Influenza. (Recommended)
You or your vet can email/fax  (fax# 608-237-2367) proof to us, you can upload to your profile by logging in to your account on our website or as soon as your first reservation is requested, we will then contact your vet to request vaccinations.
ADDITIONAL REQUIREMENTS
Negative fecal result within the past 6 months (then required annually)
Proof of flee and tick preventative
Must be at least 14 weeks old
Must be spayed or neutered after six months of age (If this is against the recommendations of your vet call us to discuss your options)
Must be in good health, has not been ill or exposed to illness in the previous 30 days
Must be non-aggressive, meet and continue to meet temperament requirements
Dogs must wear a quick release collar or no colla
Can I tour your facility?
Yes! We love to show our facility to potential pack members.  Tours must be scheduled in advance so that we can ensure proper staffing.  Please give us a call at (608)-571-7225 to schedule a tour.
Are reservations required?
We prefer reservations be made although we realize sometimes life happens. We will do our best to accommodate last minute reservations, including emergencies.
Will you administer medication?
Absolutely! We will administer your dog's medication while staying with us. We ask that you bring only enough for your dog's stay at Leader of the Pack Doggie Daycare and that the medication be in the original medicine bottle because this ensures that our staff will not have an allergic reaction to the medication. Please do NOT put medicine in dog food.
What happens if my dog gets sick or injured?
We will make every attempt to contact you or your emergency contact if there happens to be any illness or injuries. If we cannot reach you, Leader of the Pack will seek veterinary attention. In this case, all veterinary costs will be the pet owner's responsibility.
We are always looking for quality individuals to join our team.  To be considered for employment please complete this application.
What are your hours on holidays?
On most major U.S. holidays we have reduced hours.  We are not open for daycare on these days and only offer boarding pickup from 6:00 PM to 7:00 PM.
My dog has sore / tender feet after attending daycare, what happened?
Some dogs experience tender or sore paws after their first few visits to daycare. This is normal as their paw pads adapt to the hard surfaces of daycare and all of the activity. Often times the dogs do not let us know that their feet are sore because they are too busy playing and having a good time and only start limping once they get home. If your dog's paws are sore you can apply an over the counter anti-biotic cream with pain relief to soothe them. Often times after a few visits to daycare dog's paws will develop to the environment and activity level. If you are concerned that your dog's paws will be irritated by the surfaces we will apply Musher's Secret, an all natural paw wax, to your dog's paws at no additional charge.
Does the train scare the dogs?
We do have an active rail line running along the south side of the property. This track is active, but is used almost exclusively after we close at 6 PM. We have contacted the railroad and they explained that the businesses serviced by the rail line in our area only take delivery at night. This allows the businesses time to unload the train cars during the day so the train cars will be ready to be removed at night. To date we have yet to have a train come through while the business was open. In the instance that a train did come by we will move the dogs into the inside play area at first sight or sound of a train to avoid any dogs being scared.
What type of collar should my dog wear?
We require that all dogs in our facility either wear a quick release collar or no collar at all.
Does someone stay at the facility overnight?
No, we go home and let the doggies rest at night. Each doggy or family of doggies has their own private suite so everyone is safely tucked in at night. The facility is equipped with a monitored alarm system. The owners live nearby along with a few employees who can respond quickly in the case of an emergency.
What do I need to bring when my dog is in boarding?
We recommend bringing your dog's food from home, but will serve your dog American Natural Premium Sensitive Care if you wish. We provide food and water bowls and comfy bedding. You are welcome to bring a toy and or washable bedding from home.
How can I get in contact with you in case of an emergency?
We monitor our voicemail routinely during all hours.  Please leave us a message and we will get back to you as soon as possible.
What do I need to bring when my dog is in daycare?
You can bring a treat or small snack we will provide it to your dog during lunch time. We do not provide lunch to dogs. Please label the food container with your dog's name. Please bring a leash for your dog to enter and exit the facility with. You do not need to bring any toys, we have a ton for your dog to enjoy.
Should I bring my dog's food?
We strongly encourage you to bring your dog's food. Sometimes new foods can upset your dog's belly. If you cannot or would rather not bring your dog's food, or if we run out during your dog's stay with us, we will be happy to feed them our house dog food at no additional charge. When providing personal food, we ask that you bag each individual bag of food in zip lock bags because your scoop may be different than our scoop and this ensures that your fur kiddo has the same portion as at home.